Silk-screened ceramic enamel frit products offer building designers exciting and different ways to customize exterior and interior glass, by using standard and custom screened patterns in a variety of colors. Silk-Screened glass is offered monolithically, in insulating glass units, or as laminated glass, providing beauty, safety and functionality.
Where should I use it?
All-Glass Entrances, Interior Partitions, Signage, Storefronts, Exterior Window Walls, Commercial Fixed and Operable Windows, Canopies and Skylights.
Wallkingdon Glass offers a variety of silk-screened decorative glass products to satisfy a wide range of applications. Light frit colors and certain pattern designs can cause enhanced brightness when viewed from indoors under certain daylight and background sky conditions, while dark frit colors will tend to reduce glare. Applications include transparent and translucent silk-screened glass for interior applications, including glass doors, partitions, handrails, glass ceilings, floors, bathrooms, elevator walls, shower enclosures, court walls for racket sports and sneeze guards for food service.
Most heat-treated silk-screened glass is not permanently marked with a logo unless it is specifically requested at the time of placing an order. The design professional is responsible for specifying the use of a logo as required to meet the governing building codes. Heat-treated glass (fully tempered or heat-strengthened) complies with ASTM Standards C1036 and C1048, and fully tempered glass meets ANSI Z97.1 and CPSC 16 CFR 1201 safety glazing standards. Silk-Screened decorative glass supplied fully tempered in Canada complies with CAN/CGSB-12.1-M90.
Available in one-piece orders or high-volume runs, silk-screened decorative glass is custom-made by transferring a silk-screen image to the glass and then processing it through a horizontal tempering furnace. Each individual lite is screen-printed with the desired pattern and ceramic enamel frit color. The ceramic frit can be silk-screened onto the glass substrate in one of three standard patterns, dots, lines, holes, or in a full-coverage application. In addition, custom patterns can be easily duplicated on the glass. Depending on the pattern and the color, the glass lite can be made transparent, translucent or opaque.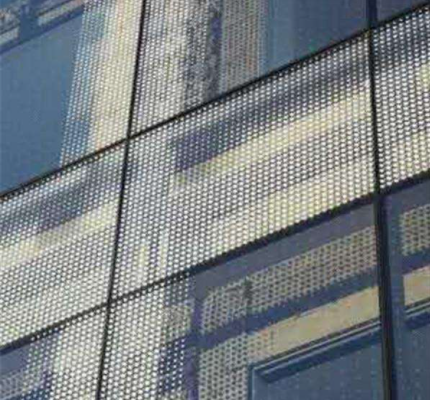 offers a complete line of ceramic enamel frit in the following standard color options: Black, Graylite®, Grey Black, Warm Grey, Solargray®, Charcoal, Solarbronze®, Lava Bronze, Ford Blue, Solex®, EverGreen™ and White. Oldcastle BuildingEnvelope® offers the following standard color options: Black, Graylite®, Grey, Charcoal, Bronze, Blue, Blue-Green, Green and EverGreen™. Custom colors for ceramic enamel frit are also available.
Spandrel Glass Colors: The glass types listed below are included in the Spandrel offering. Wallkingdon Glass offers a variety of glass products to meet your architectural glazing design needs. Please contact us for product availability and performance data as this information is subject to change without notice.
Wallkingdon Glass provides first-class products and services to exceed customer expectations. No matter what your project needs—from external high-rise windows to large-capacity glass in storefronts or showrooms, please contact us through the following ways: enquiry@wallkingdonglass.com