Everyone loves windows. They allow light and air into your home, and in some cases they provide an emergency exit. The one thing that typical windows do not offer is privacy. Without some sort of covering or treatment, anyone can see into a window from the outside. This can be particularly obvious at night when the interior lights make it even easier to see into a building. Privacy is important, especially in bathrooms, and homeowners should take the time to choose appropriate window treatments to achieve the amount of privacy that they desire.
Blinds
When it comes to window privacy, blinds are an obvious choice, and there are a wide variety of options available. For example, Venetian blinds or horizontal blinds are one of the most popular and common options, and they come in a variety of different materials including wood, vinyl, faux wood, or plastic. Other types of blinds include vertical blinds, which are often used to cover glass doorways. You can even purchase blinds (typically Venetian blinds) that are built into the window itself. Either the window comes with the blinds already built in or in some cases you can purchase a kit that installs over your current window. These blinds are convenient because they provide privacy, you never have to dust them, and pets and kids cannot get tangled up in them.
Shades
Shades are very similar to blinds, but they do not have slats—they use fabric instead. Some of the different kinds of shades that are available include Roman shades, honeycomb shades, and roller shades. Shades often allow some light to filter through while providing complete privacy.
Curtains
Curtains can be used in conjunction with blinds and shades for decoration and privacy. They come in a wide variety of fabrics and colors. Sheer curtains allow light into the building, but they might not provide complete privacy. Heavier curtains will allow complete privacy, and they will also block the light.
Window Film
Window decals or window film can provide privacy in a variety of situations. For example, window films can be used in bathrooms, on front doors, and more. They are typically applied to the inside of the window, and you can install them yourself. If you do not want to replace your current windows with etched or glazed glass, this is an inexpensive and easy option. This is also a good option if you are renting because the film can be removed when you move out if necessary.
Exterior Window Privacy Screens
Exterior window privacy screens are a great option for bathrooms because they allow you to open the window (for ventilation) while still having privacy. These screens usually feature slats and can be installed on the exterior of the building.
Interior Shutters
Interior shutters are another way to provide privacy, and they are a popular addition to bathrooms and kitchens. These shutters feature slats on doors, and the doors can often be moved completely out of the way offering an unobstructed view out of the window. The slats themselves can be opened or closed by a piece of wood running down the center of all the slats. You can open or close the slats, and you can open or close the shutters as a whole.
Textured Glass (also known as Frosted Glass Windows)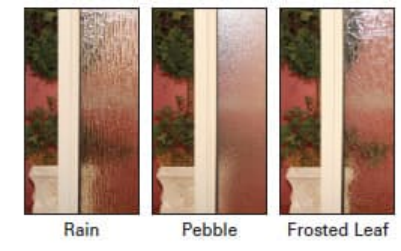 Textured glass is a popular and tasteful way to provide privacy in your bathroom. Instead of being smooth this type of glass features a textured finish. Because of this, you cannot see much through this type of glass because everything is distorted. This type of glass is often used for shower doors as well as bathroom windows
To learn more about all of the window options, contact us today for a complimentary window consultation. We'll assess your existing windows and provide expert recommendations on replacement window solutions.
The Related Glass Supplier In China:
Wallkingdon Glass is a leading glass supplier in China for architectural and interior glass and offers a variety of tempered and laminated glass products to satisfy a wide range of applications.
If you have any question for any type of lass , pls kindly contact us via enquiry@wallkingdonglass.com