What is Tinted glass?
It's is made by including colouring additives to normal clear glass during the manufacturing process. Majority of tinting is done with shades of bronze, grey, blue or green. These tones of glass significantly reduce glare and heat gain from the sun.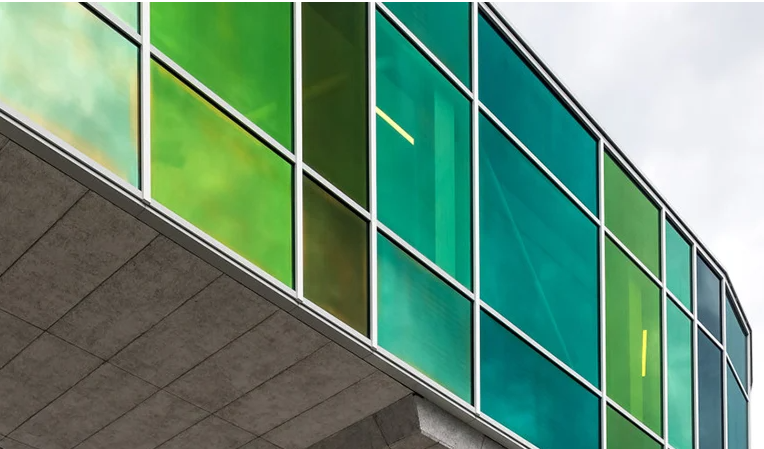 What is the function of tinted glass?
Window tint provides safety because windows that have had window tint applied to them can actually hold broken glass together and keep it from becoming airborne in an accident, which protects those inside from being injured. Offers protection from the glare of the sun, as well as bright headlights from an oncoming car.

What is tinted glass door?
Tinted glass is glass that's made darker by adding coloring. The tint can range from light to almost totally black, similar to the tint you see on some car windows. Glass in a home can be tinted just like car windows can be tinted.
What is gray tinted glass?
Grey Glass or smoked glass in lay terms; is a tinted soda lime glass that is primarily used to restrict or reduce light transmission (transfer) as well as for decorative applications. Generally used for windows, grey glass can be used to prevent fading of furnishings, carpeting, clothing, artwork, etc.
What color tint is best for glasses?
Concerning lens color, Gray is the most common. It provides the most accurate color visibility. Gray is dark enough for bright, sunny days but not so dark as to impair vision. For general sunglass use, gray is the most common choice.
The beauty and benefits of tinted glass
The design applications of glass are as limitless as the imagination. Glass coatings and colors can be applied primarily for aesthetic purposes, yet the performance benefits are an added - sometimes necessary - bonus. Tinted glass is one type that satisfies both of these considerations, enhancing the appearance of a building façade while improving its solar performance. From the exterior, tinted glass is distinctive, reflective, and can make a statement when applied to the majority of a building envelope, or if it is contrasted with other façade materials. Tinted glass can be used to form a curtainwall, and is most often used in commercial applications, offices, and other large facilities. It is ideal for storefronts, atria, skylights, and also interior designs.
Performance-wise, tinted glass helps to regulate a building's temperature as it is designed to absorb energy from the visible light spectrum. It has the capability to reduce glare, and offer unobstructed views when looking from the inside out. Since tinted glass can be specified in a range of colors, it also has the ability to make an additional aesthetic statement on top of these performance capabilities. Popular colors for tinted glass include bronze, greys, blues, and greens, and can be specified from leading glass manufacturers like AGC Glass North America, whose tinted glass product, Solarshield®, is crafted using the float glass process. This results in a perfectly flat, smooth, glass surface.
As construction and design trends shift away from all-glass facades, a solution like Majestic Grey can be ideal for use with other materials. Because of its unobtrusive, subtle hue, this light grey glass can complement stone, tile, steel, metal plate, and other products to work in harmony. Additionally, it is a versatile, light grey glass from the world's largest glass manufacturer, offering 65% visible light transmission for plentiful natural light – a necessity for many contemporary structures and one that satisfies the overarching focus on wellness and access to the outdoors.
The unification of performance and aesthetics is entirely possible with products like Majestic Grey, and such glass can be a means to achieve superior light transmittance, top aesthetics, and be current with contemporary design trends.
Advantages of tinted glass
Tinted glass is made by adding small amounts of metal oxide to the glass composition. This alters the transmission of solar energy and modifies the colour without changing the basic properties of the glass. The process ultimately reduces the effects of sunlight which can help protect interior and furnishings from damage.
1. Energy efficiency
Tinted glass is the perfect solution for reducing your energy bills, especially if you decide to tint your windows. This type of glass is designed to absorb heat, as a result it will reduce the amount of heating used in your home or business.
2. Sun protection

Tinted glass is not just an ideal form of protection for furnishings, it is also a great safeguarding tool for your health. If exposed to UV radiation whilst sitting by a window, this type of glass reduces the amount ultraviolet rays by 99%. Therefore, providing essential protection for your family and employee.
3. Improved security

For extra security toughened glass can also be used to deter intruders from easily entering your home or business. The anti-sun glass will also make it harder to see inside!
4. Increased privacy

If you require privacy, tinted glass is perfect for solution for obscuring your property. It can also be used for office spaces, where it is vital that procedures remain discreet and confidential.
5. Low-maintenance
Tinted glass is extremely easy to clean and maintain. It is also water and scratch-resistant, which enables extensive durability. Therefore, by investing in this type of glass you'll save cleaning time and money.
Case Study:Nemours/Alfred I. duPont Hospital for Children
a 450,000 square-foot addition, was designed to maintain the facility's legacy of world-class treatment by drawing on the latest principles in health care design, including cozy, child- friendly patient rooms; welcoming, amenity-
filled spaces for families and caregivers; healing gardens and large, open areas filled with abundant natural light.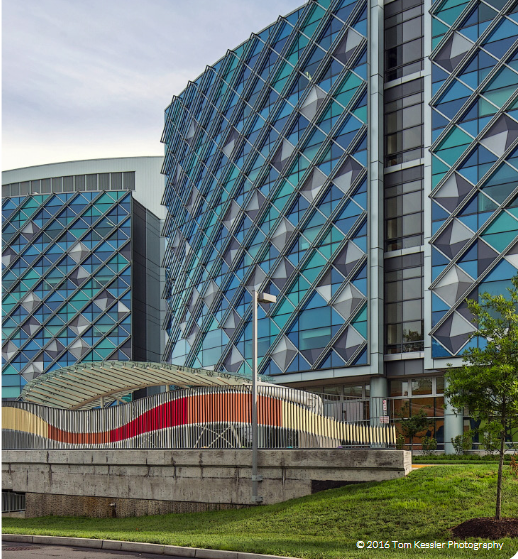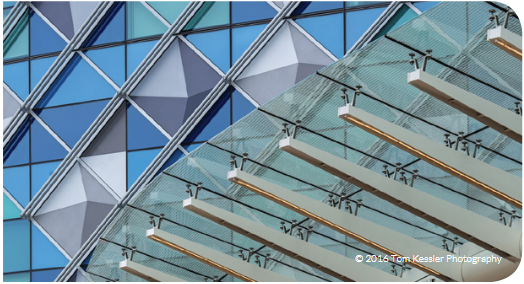 Wallkingdon Glass provides first-class products and services to exceed customer expectations. No matter what your project needs—from external high-rise windows to large-capacity glass in storefronts or showrooms, please contact us through the following ways: enquiry@wallkingdonglass.com