Home decoration & furnishing trends have come a long way. From woods to metals and now glass, they're elegant design options that can immediately transform the look of your interiors. Today, the use of glass has turned out to be quite popular among the homeowners as it not just incorporates beauty & grace to the decoration, but improves the functionality of the space as well. However, if quality glass material isn't used, it can be a severe safety risk. It's henceforth, critical for homeowners to invest in quality glass which is breakage & injury free. Also known as tempered glass, toughened glass is the ideal solution to all your concerns. Here are the top reasons why you should go for it over other materials:
Toughened glass is made by exposing normal glass to extreme heat. The glass is then cooled quickly. The fast heating & cooling process alters the chemical composition of the glass, making it more durable.
Another advantage of using toughened glass over other glass variety out there is that in a situation of extreme impact, which may make it to breakdown, the glass doesn't shatter into spikes or shards. Rather, it falls apart into pretty small, blunt pebbles. This considerably decreases odds of any injury. On the other hand, common glass breaks into long, sharp spikes and can prompt injury.
The impact resilience of toughened glass makes it a safer choice to invest in. It infuses a sense of security to the place. Furthermore, windows and doors fixed with toughened glass can be adapted to offer sound-proof solution, which makes it an ideal option for every area/neighborhood.
The best thing about toughened glass is that it's pretty versatile and flexible, letting you customize it according to your choice and needs. Toughened glass is accessible in a wide range of styles, which makes it an ideal option for contemporary interior settings. You can pick from a wide range of options available or can also get it personalized for a unique & personal touch. These days, toughened glass with frosted appearance has turned out t to be quite popular as it allows privacy & also improves the aesthetics of the space.
Safety is not the only objective to use Toughened/ Tempered laminated curve glass
In home development and in other building ventures, the advantages of utilizing Toughened/Tempered laminated curve glass from us are interminable; anyway, it is regular to hear about the safety that can be achieved. Numerous individuals utilize Toughened/Tempered laminated glass from us at RSG Glass Products for different reasons, which is worth to have a look.
Less Sound
Our Toughened/ Tempered laminated curve glass incredibly decreases sound going in or out of your home, so if sound is a worry of yours you can be rest guaranteed. The sound decrease is because of the viscoelastic properties of the interlayer material. So on the off chance that you live in an area with a lot of diverting activity; the Toughened/Tempered laminated glass from us can truly help. On the off chance that your home delivers a great deal of clamor from your youngster's instrument rehearsing, you will need to keep the commotion in so you do not exasperate your neighbors.
Protection from UV
As you most likely have encountered, ultra-violet light from the sun can cause blurring on a portion of your most loved things and when you utilize non-laminated glass windows, the UV beams sparkle directly through. To abstain from having your curtains, rugs and furniture blurred, you can get curve glass introduced by us. The glass contains an extraordinary film that squares the majority of the UV light from coming in.
The reasons for our excellence
We have over 50 years of combined experience in the glass industry. Our facility uses only the best up-to-date technology and our design software allow us to produce and deliver a final product averaging about four days nationally. This makes us not only the biggest Toughened/Tempered laminated glass Plant in our region, but also the fastest. The equipment we use, allows us to Toughened / Tempered and curve glass to your specifications. We are the largest Curve Bending Plant in our region, ready to take care of your specific needs. We bend glass from 4mm to 19mm X 2400 X 3600 for high-rise buildings, balustrades, shower doors and many other applications.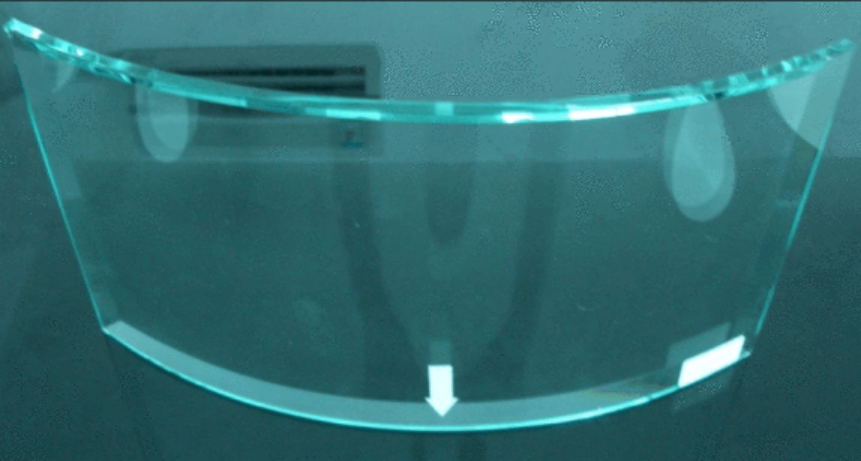 The expectations you can have
Many different versions of toughened/Tempered curved and bend glass are available from 4mm to 19mm glass thickness including Hard Coated glass.
We provide just about anything you need when it comes to Multi laminated glass. Depending on the quantity needed, we can produce many different types of glass from decorative to bulletproof. Our experienced team is at the top of the industry and work closely with you to develop and manufacture the perfect safety glass for your specific needs.
Supplier Of Toughened Glass In China:
Here at Wallkingdon Glass Products, we manufacture high-quality laminated curve glass that can be used on a wide variety of applications including circular staircases, revolving doors, curved shopfront facades, shower screens, canopies and more. Feel free to call us if you need any type of toughened curved & bend glass.