Glass Ceramic digital printing


Designs can be implemented in previously unattainable dimensions, with incomparable resolution and focal precision, and with unique color intensity. The end product, refined in this way, not only meets the most challenging aesthetic demands but also satisfies on a sustainable basis all functional and material requirements.

How does digital printing work?
The required image is digitally sent by the client to our skilled team, who then process the image. The image is then printed on the glass using ceramic ink, which is then fired into the glass during the tempering process.
Digital printing can be offered within the following parameters; up to 19mm thick, with a minimum size of 300 x 250 and a maximum size of 2800 x 3700. These panels can be 'tiled' to create very large images.


For both indoors and outdoors
Ceramic digital printing technology - is ideally suited for implementing glass designs quickly, easily, and economically - both for interiors and exteriors. Glass areas can be enhanced with high-level resolution and brilliant color intensity - according exactly to customer specifications and taste. Ceramic digital printing - unlike conventional screen printing - can print a number of different colors simultaneously.


The motif of your choice
With ceramic digital printing technology, absolutely any motif can be edited and sent to the printing machine. Special print heads then transfer the ceramic ink onto the glass with pinpoint accuracy. Finally the chosen motif is fused permanently with the glass surface.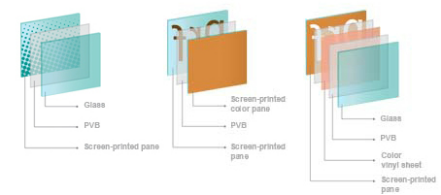 Really impressive large-scale formats
The ceramic digital printing process used permits analysis and breakdown of large-scale images into individual frames. In this way the façades of entire buildings can be glazed - economically and according exactly to the customer's wishes, e.g. with a company logo, images, or ornamental designs.
Digital printing offers numerous benefits over more traditional screen-printing methods namely:
Eliminates screen costs:
Digital printing does not have any associated costs such as screens etc, thereby reducing financial costs to clients.
Eliminates screen storage:
Images are digitally stored, therefore reducing the need for storage commonly associated with screen printing.
Reduces manufacturing periods:
Digital printing significantly reduces manufacturing periods, due to the fact that there is no delay in waiting for screens to be manufactured.
Customer / artwork requirements
Artwork supplied in ideally raw state or workable formats.
Multi-colour printing
Digital printing means that several colours can be incorporated into one print, where as screen printing requries one screen per colour.
Variable data
The nature of digital printing means that the client's details such as serial or part numbers can be altered easily between jobs
ai, eps, pdf and jpegs (high resolution photos).
If any of the above cannot be given, good quality print outs maybe acceptable for graphical reproduction. This includes photos and business cards
Want to try digital glass printing?
Contact us to learn more about the opportunities opened by glass printing. Wallkingdon Glass team of professional engineers, designers and architects is waiting to hear from you!
Wallkingdon Glass provides first-class products and services to exceed customer expectations. No matter what your project needs—from external high-rise windows to large-capacity glass in storefronts or showrooms, please contact us through the following ways: enquiry@wallkingdonglass.com